Into Africa - Page Two November 2: At a mission in the middle of the jungle, we meet a German medical doctor. He seems confused and asks us how we got here and what do we want to do here. His last visitor was three years ago. The situation reminds me of a passage out of Karen Blixen's book, "Out of Africa."
November 3: The wet, black soil of the jungle is as slippery as soap. The vehicle works its way through washed-out stone and root patches. Whenever there's a possibility of the car tipping over sideways, we 'hang' 4 or 5 Africans onto pre-fixed hooks on the body of the car to act as a counter-weight. The system works well and we call it 'going into the trapeze'. It never fails to surprise me that even on the remotest track we only have to stop for five minutes before we are surrounded by Africans, who seem to appear out of nowhere.
November 4: The maze of washed-out channels in the road caused by heavy rains is often difficult to manage. The van seems to twist itself to such an extent that the aluminium cladding tears and some of the pop rivets shoot out.
We eventually get to a new variation in the track. Mudholes. Even two days after the rains, there is water everywhere. The jungle is like a sponge. It absorbs the water and retains it. The car gets stuck. Anyone who has never had to jack up a car in a mudhole, hasn't learnt the full appreciation of lying on Camps Bay beach!. The idea is to saw off tree stumps and place the logs under each wheel. No sooner have you lifted the last wheel onto the logs, when the first wheel has disappeared into the mud again. It takes up to 2 hours to get the wheels onto a solid base. A further 3 km down the road we hit yet another 'brown porridge' hole and this time it is only the beginning of a gigantic mud hole ahead. I don't like giving in, but this time I am ready to throw in the towel. The jungle is the winner. We have to back track 500 km to Kalemi.
November 17: To load a car by crane on board a ship is always a bit nerve racking. 20 Africans standing around and 10 discussing how the car should be brought on board. At last the car is on board, but my wooden box on the roof of the car gets smashed.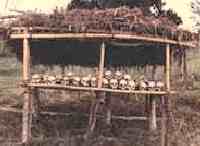 November 25: Kampala, Uganda. A new government is in power and the old leader, Obote, fled to Kenya but on his way out of the country, he called by the Uganda Reserve Bank and helped himself with a few lorry loads of loot. They say he is no better than the former leader, Idi Amin. Big pyramids made of skulls are neatly piled up and displayed alongside the road on crudely made tressle tables. We come across these shocking monuments every few kilometres. These skulls were dug out of mass graves and displayed to show what the previous ruler of Uganda did to his own people.
The people of Uganda are very friendly and one can sense that they have had enough of all the killing. Many children between the ages of 10 and 12 years wear uniforms and are armed with automatic rifles slung over their shoulders. Their fathers were killed in the revolution and the new government is taking care of these children.
I have to buy 2 new tyres. Due to inflation, the price is 2,6 million shillings. If one were to stack the paper money, it would reach a height of over half a meter. The petrol is cheap at 12 cents a litre.
December 5: At the foot of Kilomanjaro, Tanzania. We will try to make it to the top of Africa's highest mountain. I have tried it twice before and both times had to turn back before reaching the summit. My two daughters, Natascha (14) and Tanja (13) have flown in from Cape Town to join me on my 6 week return journey. Natascha has a knee injury and has to stay in the base camp.
December 8: At 1am we roll out of our sleeping bags. It is very cold at 5000m. By the light of the paraffin lamp we slowly work our way up the old volcano cone, slipping backwards on the loose stones. The air is thin and breathing is difficult.
At 10am we reach Uhuru Point, 5895m. We made it! What a fantastic feeling, after my fist two attempts and failures.After 4 days we reach Uhuru Peak. Tanja is the youngest person to climb Kilomanjaro on available records.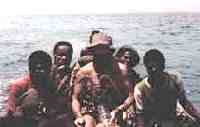 December 17: Dar Es Salaam, Tanzania. Last year we were shipwrecked 60 km south of Dar es Salaam on an isolated palm fringed beach, which has a coral reef in the shallow waters. It was so fantastic there, that we decide to return to the same spot and spend a week diving and spearfishing in the clear equatorial waters.
December 24: A small palm tree is our Christmas tree and we decorate it.
December 30: Nkata Bay, Malawi. In returning to this beautiful spot, we have completed a big circle of 18 000 km in Central Africa. We spend a week here.
January 9: Zimbabwe Ruins. An amazing place.
January 11: Chobe Game Park, Botswana. The roads are very sandy and we are constantly in 4 wheel drive. We camp on the Chobe River and watch 300 elephants against a red sunset sky. I love Africa!
January 13: Savuti Game Park is lion country. Botswana is special for me. The vastness, the space, the game. It is beautiful ... and wild ... It is real Africa.
January 18: Okavango Delta. We spend four days in the canoes, exploring the lillied water ways and islands. It is magnificent.
January 20: Matjiesfontein. Breakfast in a place we always like to return to. A few hours later ... Table Mountain ... home.