The Story II Contact & Display Info II Sea Tales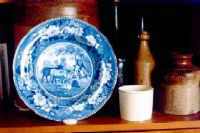 For more than a century a valuable treasure laid buried under 4 metres of sand on the bottom of the ocean, not 600 metres from the shore near Shelly Point. This treasure, which includes some of the best preserved artefacts ever found during an Aqua Exploration, was discovered in January 1998 by Charles and Karen Shapiro with the help of Anton Kriel and Anet McLeod of Britannia Bay. The artefacts include 27 different types of bottles and jars as well as two types of porcelain crockery. The most precious of the crockery is the Hicks and May porcelain stone chinaware with blue and white patterns dating from 1804 and 1820.
Perfectly Preserved Pickled Fish!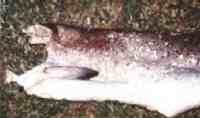 The divers were amazed to find sealed jars with pickled pepper corns, olives as well as a sealed jar of pickled fish. All perfectly preserved. There were also jars of jams, pieces of material and pieces of Stevenson and Williams earthenware china. This impressive collection of artefacts has created quite a stir, not only in the local community but also amongst marine archaeologists and members of the National Monuments Council.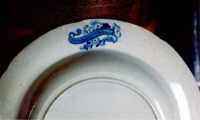 Charles Shapiro has been involved with salvaging since 1976. He made history when he discovered the first English wreck, the Johanna, dating from 1683, in 1983. He remembered from his research that the Britannia carried quite a valuable load of copper and decided to investigate the possibility for Aqua Exploration in the area.
He knew from experience that it is more practical to include local people in a salvage project and met with Anton and Anet. They were very interested and after the first visit, a period of intensive research followed.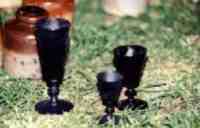 Charles was very disappointed to learn that 3 years after the Britannia had struck the reef, a certain Mr Melck bought the wreck and salvaged copper from it. This information, however, did not deter the team from continuing the exploration. The actual wreck was discovered in April 1997. Almost a year later the team was finally able to identify the wreck when they discovered the first artefacts. They used a blower to blast sand from the wreckage and in order to do so, they need very calm weather.
Next: Photos of the salvage team and contact info if you wish to view the display
Back to Sea Tales