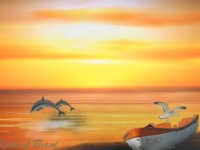 St Helena Bay is situated in such a way that it is the only place on the West Coast where you can watch the sun rise over the sea.

Every sunrise is different: from warm, red African sunrises to breathtaking, cooler scenes that could be somewhere in Scandinavia.

As the light shifts on the horizon, you can watch dolphins as they playfully start the new day...
St Helena Bay Information
About St Helena Bay
Whale Watching
Whales & Dolphins
Whale Song
Surfing!
History
Geological Article
Home
Terms of Service
About Us
Privacy Statement


© Avril Brand, South Africa West Coast, all rights reserved
Graphic: © "My St Helena Bay" by Avril Brand