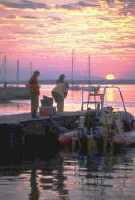 Right: Preparing the Balaena for a day at sea, Saldanha Bay harbour (photo by J. Barendse)
On suitable sea days, the Unit's inflatable Balaena is directed to groups of whales, where they are approached (under a special permit from Marine and Coastal Management) and identification photographs of individual whales taken. In the case of humpbacks, a small skin sample is also collected with a special rifle, which will enable us to determine the gender of an animal, as well as its population identity.
The project started at the end of July of 2001, and is intended to continue till mid-2003. Some of the preliminary results have been very encouraging. For the period 24 July to 30 November, with 87 days on which some observations could take place (a total of about 512 hours!) we saw a total of 175 groups of southern right whales comprising 260 individuals.
In the same period we saw 64 groups of humpback whales, containing about 126 individuals. These numbers are still rough, and may certainly include re-sightings of the same animals, but it is clear that there are many whales off Saldanha. The busiest month was October, when we saw more than 100 southern rights, and more than 50 humpbacks. Some of the most exciting days were when both right whales and humpbacks were seen breaching less than a kilometer offshore near Malgas Island.
One day in November we had two southern rights that first "docked" at the iron ore jetty, and then proceeded to swim amongst the mussel rafts in the harbour! Other interesting events include the stranding of a baby right whale at Dwarskersbos, and adult female at Paternoster, and a live stranding of a young humpback at Elandsbaai.
One amazing thing about the area between Dassen Island and St Helena Bay is that it seems that some individuals of both species may be present here throughout summer, and not join the majority of whales on their summer migration to Antarctic water. This is certainly worth further investigation.
Whale watching hotspots in the area are St. Helena Bay, Cape Columbine, Saldanha Bay breakwater, and Plankies Baai off South Head. We hope to keep you updated with the progress of our project. Until then, happy whale watching! REMEMBER: you are by law not allowed to approach a whale closer than 300m.