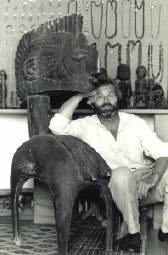 Klaus Schrumpf emigrated from Germany in 1963. He has lived in Camps Bay, Cape Town since his arrival. He used to operate two Safari companies - one that ventures into southern African countries (Botswana, Namibia, Zimbabwe) and the second into Central Africa in search of African Art. He has crossed Africa, land of contrasts, many times.

"African Art is a fascinating subject. It gripped me many years ago when I first set eyes on it. Since then, I have undertaken many expeditions into Africa in search of interesting pieces. Of course, by disappearing for many months on end into the heart of Africa, I experienced a fair share of adventures." (Read extracts from the log book of one of his Central African journeys).
Please take a look at the gallery to see photos of a few pieces out of hundreds of African art for sale.
Wir sprechen auch deutsche